Post by Mutant on Sept 4, 2011 19:17:17 GMT -6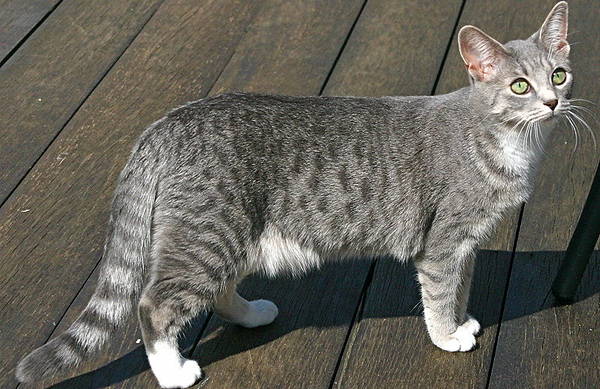 the greatest thing you'll ever learn is just to love and be loved in return

--BASICS--
good men must die, but death cannot kill their names.
-proverb
Name:
Spottedkit
---> Spottedpaw
Reason behind name:
Her fur is spotted. Pretty self-explanatory.
Gender:
Female
Age:
7 moons
Position:
Medicine cat apprentice
Appearance:
Spottedpaw is a very pretty silver cat with dark gray spotted tabby markings. She's very small and light, and moves like water through the trees. She looks more than a WindClan cat than a RiverClan cat, with her little build and short fur. Her tail is unusually long for her size, and her eyes are very pale green, like the underside of a leaf. Her paws, chest, muzzle, and belly are unmarked white. She looks a bit like a fish, with her silver fur, long whiskers, and fluid way of moving.
Short Description:
Silver tabby she-cat with pale green eyes
--PERSONALITY--
we continue to shape our personality all our life. If we knew ourselves perfectly, we should die.
-albert campus

Personality:
It would be difficult to find a more kindhearted young cat. There is no scrap of bitterness or selfishness in Spottedpaw's little body; she loves every member of her Clan with all her heart, treating all of them like her own kits despite her youth. She is somewhat easily spooked, having been through a horrific ordeal as a kit. She has no fighting skills whatsoever, and she doesn't much like hunting. She loves watching little creatures run around the forest, and will sooner feed a mouse than catch it. Her warrior instincts are virtually nonexistent; she is gentle, non confrontational, and very naive. She seems to believe that all cats have good intentions at heart, and honestly can't seem to comprehend the notion that anyone would ever want to hurt somebody else. She gets depressed before getting angry, and takes everything that anyone says to her very personally. It's rare that anyone insults her, but when they do, she'll pine over it for days at a time. She has a great deal of talent when it comes to healing.
Ambition:
Spottedpaw very simply wants what's best for the other living creatures around her. She has a great deal of faith in StarClan and the warrior code, and lives her life trying to preserve the Clan way of life. She considers her talent a gift to the forest, not to herself, and tries as hard as she can to use it as such, doing not only what is best for RiverClan, but for the forest as a whole.
Fears:Likes:


Scent of herbs

Her brother, Stripedpaw

Early morning, before anyone is awake

Watching other animals

Dislikes:


Confrontation/Violence

Arrogant cats

Twolegs

Storms

Attitude towards strangers:
She is open and receptive to strangers, almost to a fault. She likes talking to anyone she encounters and often forgets the danger that strange cats can present.
Attitude towards Clanmates/familiar cats:
She always seems to have something supportive and kind to say to her Clanmates.
Three words describing cat overall:
Compassionate, encouraging, gentle

--HISTORY--
experience is simply the name we give our mistakes.
-oscar wilde
Secrets:
Spottedpaw wants nothing more than to be a medicine cat, but she doubts her ability to cope when she finally has to deal with the death of a Clanmate in her care.
Family:
She is very protective of her brother, Stripedpaw, and does her best to encourage all of his efforts to be the best warrior that he can. She was very close with her parents, but they are dead.
History:
Spottedkit almost died at a very young age. Her parents, Birchnose and Acaciaflower, drowned in an accident that very nearly took her life as well; the careful attention of the medicine cat was what saved her life, and since she was brought back from the brink of death, she has wanted to be one herself. She has studied hard as a medicine cat apprentice, and has quite a bit of talent, especially for such a young cat. She has a way with sick cats that no Clan can ignore; it would have been a waste for her to be made a regular apprentice.